S1E30 - 030 Bladder Stones in Dogs
We discuss bladder stones in dogs, what causes them, how we diagnose them and treatments available. In Pet news we talk about Simparica Trio and the Pet Cube. Chance is our case of the week and Brittney has tips to help pet owners get a urine sample at home.
8 months ago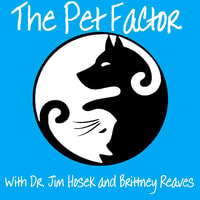 Episode Notes
In this episode of The Pet Factor, our help topic is bladder stones in dogs, the causes, how we diagnose them, and different ways they can be treated. In our Pet News segment we introduce Simparica Trio, the first all in one parasite preventative in a convenient Chewable tablet, available this April and a Ukranian inventor comes up with a way to deal with your pet's being bored when you are away. The Pet Cube in an interactive device you control with your phone to watch, talk with and play with your pets when you're not home. For our Case of the Week, we talk about Chance, one of our successful patients with Atopy and the great medications we have to treat this difficult skin condition. In Tech Tips, Brittney discusses creative ways pet parents can get a urine sample at home. Don't forget to subscribe to our YouTube channel and follow the podcast on your favorite podcast service to get the latest episode. You can find a list of links where to find us and past episodes on our blog page at https://brookfieldvets.net/blog/135860-check-out-our-podcast-the-pet-factor
Find out more at https://the-pet-factor.pinecast.co
This podcast is powered by Pinecast.