S1E14 - 014 Diabetes in Dogs
In this episode we talk about diabetes in dogs, how if differs from cats, diagnosis and treatment. Our Pet Health News segment includes an unusual genetic disease in a German Shepherd, a diet to make cats less allergenic, and a study to measure the moods of dogs with arthritis. Plus, our case of the week, and Tech Tips on bathing your dog in the cold weather.
4 years ago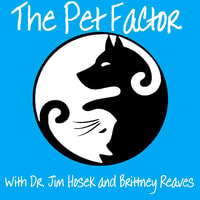 Episode Notes
The Pet Factor hosts are talking about diabetes in dogs this week. Why is it different from diabetes in cats, how we diagnose, treat, and manage the condition and the challenges that we face in difficult cases. In Pet Health News we talk about a German Shepherd dog trapped in perpetual puppyhood, an experimental diet to make cats less allergenic to their owners, and a study that is trying to measure the changes in mood in dogs with arthritis. Our case of the week is L'il Bit, a cat with a chronic upper respiratory infection. On Tech Tips, Brittney has some useful suggestions on bathing your pets in winter.
Find out more at https://the-pet-factor.pinecast.co
This podcast is powered by Pinecast.