S1E23 - 023 Hip and Elbow Dysplasia - Part 1
We start Part 1 of our dive into elbow and hip dysplasia talking about what it is, the causes, and how we diagnose these diseases. In Pet News, the AAFP releases new guidelines for retroviruses in cats, Alaska Airline helps train guide and service dogs for air travel, and a study tries to determine if punitive training makes dogs pessimistic. Rosie is our case of the week and Brittney has tips about living with a senior dog.
3 years ago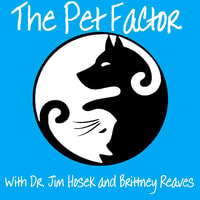 Episode Notes
In this episode of The Pet Factor, we start a two-part series on Elbow and Hip dysplasia. We talk about what it is, which dogs are most susceptible and what signs to watch for. We also discuss the best ways to diagnose the condition. We will conclude with treatment next week. In Pet news, the American Association of Feline Practitioners (AAFP) releases their first update on guidelines for dealing with FIV and Feline Leukemia Virus in cats in over a decade discussing screening, prevention, management, and treatment. Alaska Airlines along with Guide Dogs for the Blind helps guide dogs and service dogs acclimate to air travel with a free event. A new study tries to determine if punitive training methods for dogs has long term effects on their welfare by measuring their pessimism. Our case of the week is Rosie, a Boston Terrier with stenotic nares. Brittney has tips on living with and caring for recently adopted senior dogs.
Find out more at https://the-pet-factor.pinecast.co
This podcast is powered by Pinecast.