S1E12 - 012 Diabetes in Cats
Dr. Jim and Brittney talk about diabetes in cats, what to look for and expect if you cat is diagnosed. Pet health news including new products, an overseas bone marrow transplant for a dog with cancer, and a cat food recall. Cheddar is our case of the week and in Tech Tips we discuss choosing the right leash.
4 years ago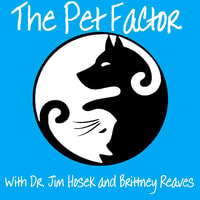 Episode Notes
In this episode of The Pet Factor, we are going to talk about Diabetes Mellitus in Cats. What to watch for, how we diagnose and treat, and what to expect if your cat is diagnosed. In Pet Health News, we report on a raw cat food recall, new products from a new 2-month feline parasite preventative to a concentrated fish oil supplement, and the story of a dog with cancer who received a bone marrow transplant from her mother across the ocean. Our Case of the Week is Cheddar, an orange tabby with a bite wound abscess, and in Tech Tips, Brittney discusses how to select the right leash for your pet.
Find out more at https://the-pet-factor.pinecast.co
This podcast is powered by Pinecast.