S1E16 - 016 Hypothyroidism in Dogs
We discuss the symptoms, diagnosis and treatment of hypothyroidism in dogs. In pet health news we pass on an FDA warning about topical pain medications, a cat food recall, and a dog exposed to toxic mushrooms in his own yard. We also have our case of the week and tech tips on using harnesses for walking your dog.
2 years ago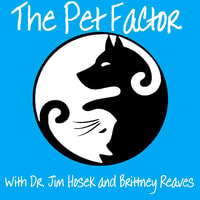 Episode Notes
In this episode of The Pet Factor we explore a common hormone deficiency in dogs, Hypothyroidism. What to look for, how we diagnose and treat, and how it can be over diagnosed. Our Pet Health News segment includes a story that warns about toxic mushroom exposure in dogs, a voluntary cat food recall but J.M. Smucker, and a warning from the FDA on the use of Topical Pain medications and pets, especially cat. The Case of the Week is Simon. Brittney talks about using harnesses for walking your dog in Tech tips.
Find out more at https://the-pet-factor.pinecast.co
This podcast is powered by Pinecast.