S1E7 - 007 External Parasite Prevention
We discuss flea and tick prevention, how to avoid dog bites with children, our case of the week and Tech Tips on how to keep your dog from chewing up your home.
2 years ago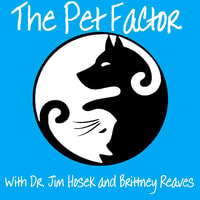 Episode Notes
In this weeks podcast, we talk about the what and when of external parasite prevention, primarily, fleas and ticks. In pet health news, we have two interesting medical cases, tips on preventing dog bites in children, and progress by University of Pennsylvania vets in developing a gene therapy for genetic night blindness in dogs. Our case of the week is Zamboni, a cat with sudden vision loss, and on Tech Tips we help dog owners deal with pets who like to chew things they shouldn't.
Find out more at https://the-pet-factor.pinecast.co
This podcast is powered by Pinecast.