S1E28 - 028 Glaucoma in Pets
We talk about the causes, diagnosis and treatment of glaucoma in pets, how the $6 million-dollar Super Bowl ad for UW inspired another donation, and answer the question "Do dogs get jealous?" Also, we present our Case of the Week and Brittney suggests ways to introduce a baby to your pets on Tech tips.
3 years ago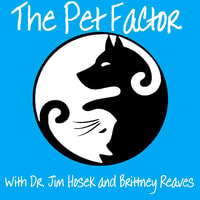 Episode Notes
In this episode of the pet factor, we discuss the types and causes of glaucoma in cats and dogs, how we diagnose the condition, and treatment options available to pet parents. We start off with our Pet News segment and an update on the Super Bowl ad for Scout from Weather tech that now has inspired another donation for the University of Wisconsin Vet School. Dr. Hosek discusses a study that tries to determine if dogs get jealous. Our case of the week is Azlin, a kitty who presented with severe glaucoma and Brittney offers Tech Tips on introducing a new baby to the household pets. Don't forget to follow the podcast on your favorite podcast service to get the latest episode. You can find a list of links where to find us and past episodes on our blog page at https://brookfieldvets.net/blog/135860-check-out-our-podcast-the-pet-factor
Find out more at https://the-pet-factor.pinecast.co
This podcast is powered by Pinecast.