S1E20 - 020 Addison's Disease in Pets
We discuss Addison's Disease in pet, a deficiency of the adrenal glands. In Pet Health News we check out Finding Rover, a Facial Recognition App for dogs, a new Oral Flea Preventative coming for cats, and Common renal Toxin in dogs. Also, our Case of the Week and Tech Tips on foot care for your dog in winter.
2 years ago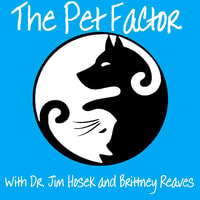 Episode Notes
In this episode of The Pet Factor, Dr. Jim and Brittney talk about Addison's Disease in pets, a disease resulting from decreased adrenal gland function. They discuss the symptoms, diagnosis and treatment. The Pet Health News Segment includes a story on Facial Recognition App for dogs, aimed at reuniting lost pets with their owner; the approval of a new oral Flea Preventative for cats, Credelio Cat from, Elanco; and a warning about everyday items that can be toxic to your pet's kidneys. In the Case of the Week, the hosts talk about Per who got sick after eating cashews and almonds. Brittney discusses winter foot care for dogs in Tech Tips.
Find out more at https://the-pet-factor.pinecast.co
This podcast is powered by Pinecast.