S1E29 - 029 The Blocked Cat
We talk about urinary obstructions in cats and a new diet to prevent cat allergies in people. We also present our case of the week and Brittney's tech tips to pick the right litter box.
3 years ago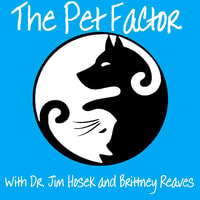 Episode Notes
In this episode of The Pet Factor we talk about the blocked cat, a life-threatening condition where the urinary tract becomes obstructed and emergency care is essential. We discuss the causes, symptoms and treatment. In Pet News, Purina will be launching a new cat food to reduce allergies in people and Chinese pet owners modify surgical masks to protect their cats from coronavirus; but is it necessary? Our case of the week is Valentino who presented with abscess on his face, and Brittney talks litter boxes in Tech Tips. Don't forget to follow the podcast on your favorite podcast service to get the latest episode. You can find a list of links where to find us and past episodes on our blog page at https://brookfieldvets.net/blog/135860-check-out-our-podcast-the-pet-factor
Find out more at https://the-pet-factor.pinecast.co
This podcast is powered by Pinecast.