S1E22 - 022 Ear Hematomas in Pets
We explain the reasons pets get ear hematomas, and how they are treated. In Pet News, a study shows some parrots are selfless, Millennials chose their pet's health car over their own, and early exposure to dogs as children, helps decrease incidence of mental illness. Also, our case of the week and in Tech tips we talk dog parks.
3 years ago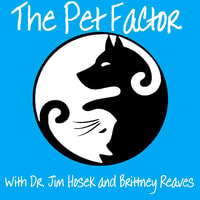 Episode Notes
In this episode of The Pet Factor we talk about Aural Hematomas that result from damage to the ears, including the causes and various treatments including non-surgical and surgical. Our Pet News segments reports on a study that tests if parrots can be selfless; a survey of Millennials that shows they chose their own pet's health needs over their own, and research showing that childhood exposure to dogs can reduce the incidence of mental illness in people. Our case of the week features a dog with a torn cruciate facing surgery and alternatives we could offer. Brittney talks about how to find the right dog park for your pet and whether or not they are a good idea for everyone.
Find out more at https://the-pet-factor.pinecast.co
This podcast is powered by Pinecast.