S1E26 - 026 Congestive Heart Failure in Pets
We talk about the causes, symptoms, diagnosis and treatment of congestive heart failure in pets. A shelter adopts out the "Worst Cat in the World." Artificial Intelligence can now predict kidney failure in cats. Case of the week: What does having the MDR1 gene mean for your dog? Tech Tips – Cats and Dogs, living together.
2 years ago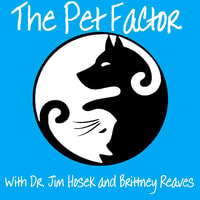 Episode Notes
This week on The Pet Factor, we talk about congestive heart failure in pets; the causes, symptoms, diagnosis and treatment. In Pet News, a North Carolina shelter offers the World's Worst Cat for no adoption fee and gets hundreds of takers! RenalTech from Antech predicts it your cat is at risk for developing renal failure using artificial intelligence. Cash is the Case of the week and we talk about what his MDR1 gene means for him. Brittney give tips on creating a mixed household. The best ways to introduce cats and dogs to each other. Don't forget to follow the podcast on your favorite podcast service to get the latest episode. You can find a list of links where to find us and past episodes on our blog page at https://brookfieldvets.net/blog/135860-check-out-our-podcast-the-pet-factor
Find out more at https://the-pet-factor.pinecast.co
This podcast is powered by Pinecast.