S1E6 - 006 Internal Parasite Prevention: Heartworm and Intestinal Parasites
We discuss the options for internal parasite prevention, promising new treatments in Pet Health News, our Case of the Week, and Tech Tips on the use of Prong Collars in dogs.
2 years ago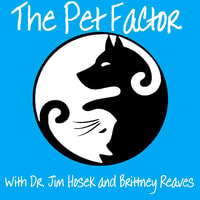 Episode Notes
We discuss how internal parasite (heartworm and intestinal parasite) prevention works, what types of products are available, and why year round protection is important. In Pet Health News, there is a promising treatment for Parvovirus in dogs on the horizon, congress pressures the USDA to stop using kittens in testing for toxoplasmosis, Veterinary Oncologist begin a 5 year study on a Universal Cancer Vaccine in Dogs, and a recall or frozen raw food. Our case of the week is Ariel, a young cat with severe dental disease, and in Tech Tips, Brittney explains how and when to use prong collars in dogs.
Find out more at https://the-pet-factor.pinecast.co
This podcast is powered by Pinecast.