S1E19 - 019 Cushing's Disease in Pets
The Pet Factor hosts detail the causes, diagnosis and treatment of Cushing's Disease in pets. Our Pet Health News segment features a strange dental case, Top Ten Dog and Cat Names, and why cats attack. We also present our case of the week, and in Tech Tips, how to pick the right dog breed.
2 years ago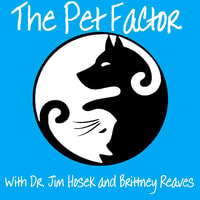 Episode Notes
In this episode of The Pet Factor, we discuss Cushing's Disease in pets, where the adrenal glands overproduce hormones. We talk about the causes, diagnosis and treatment. In Pet Health News, a Florida vet reports an unusual dental problem in a rescue dog, Pet Health insurance companies report on the most Popular Dog and Cat names for 2019. A behaviorist discusses the main causes of aggressive behavior in cats and ways to distinguish them and treat them. Our case of the week is Webster, a dog with Heartworm disease. In Tech Tips, Brittney talks about ways to find the best dog breed for your family.
Find out more at https://the-pet-factor.pinecast.co
This podcast is powered by Pinecast.