S1E15 - 015 Pancreatitis in Pets
We talk about Pancreatitis in Pets, including how to diagnose, treat, and prevent. In Pet Health News, A cure for FIP, The Dog Aging Project and a Koala Sniffing Dog. Learn about visiting pets in Tech Tips.
3 years ago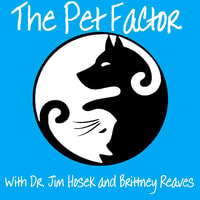 Episode Notes
In this episode of The Pet Factor, find out why pets get pancreatitis, how we diagnose and treat, and ways you can prevent it. In Pet Health news learn about a potential cure for Feline Infectious Peritonitis and why you can't have it. Enroll you dog in the Dog Aging Project! DogAgingProject.org. Learn about Bear, the Koala sniffing dog and how he is saving these endangered animals from Australian Bush Fires. In Tech Tips we talk about things you should know when your pets go visiting, or you have other pets visit your home.
Find out more at https://the-pet-factor.pinecast.co
This podcast is powered by Pinecast.