S1E10 - 010 Spaying and Neutering
The what, why and when of Spaying and Neutering. Pet Health news including new products and the 2019 Hambone awards from Nationwide Pet Insurance. Our case of the week, Theo and Tech Tips on dealing with car sickness in pets.
2 years ago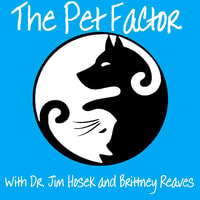 Episode Notes
In this episode we explain what spaying and neutering are, why we recommend it for your pet, and what to expect when you bring your pets in for the procedure. In pet health news we discuss new products from a cheaper medication for dogs with separation anxiety, a new extended release medication for canine incontinence, an easy way to get updates on your pet when hospitalized, a new feline genetic test, and a way to bank your pet's stem cells to treat future problems. We also report on a woman who contracted a parasite running through a swarm of flies and the winners of the Hambone Awards from Nationwide pet insurance. Theo the Great Dane is our Case of the Week. In Tech Tips Brittney provides ways to make that car trip with your pet more pleasant and safe and the best ways to avoid them getting car sick.
Find out more at https://the-pet-factor.pinecast.co
This podcast is powered by Pinecast.