S1E8 - 008 Dental Care for Pets
We cover the what and why of preventative denta care and cleanings in pets, pet health news, Case of the Week and Tech Tips on getting your pet used to having their teeth brushed.
2 years ago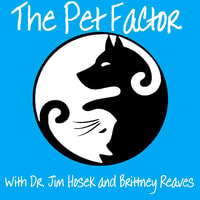 Episode Notes
This week we talk about Dental Care for pets. From prevention including brushing, dental chews, sprays and water additives, to full oral exams and cleanings under anesthesia including when and why we need to remove teeth. In pet health news, three new veterinary schools will be starting classes in 2020 and 2021, a study evaluates how closely cats are bonded with their owners, and new testing and treatment for Atopy in dogs. We highlight the dangers of onions in dogs in our case of the week and for Tech Tips, Brittney tells you the easiest way to get your pets to let you brush their teeth.
Find out more at https://the-pet-factor.pinecast.co
This podcast is powered by Pinecast.